Over a century has gone by since the first vines were planted in Aldeanueva. Its excellent climate and rich soils together with the know-how of the local growers, resulted in grapes that were highly valued for their colour and alcohol content. These were —and have continued to be until present day— the basis of many aged Rioja wines. Grapes of this quality lead to significant demand which meant expandidg our vineyards to the current 2,600 hectares.
History
The bodega was founded on 20 November 1955 by a group of growers from Aldeanueva de Ebro. Months later, in February 1956, the first Articles of Association were drafted and they began building the winery. Those founding partners joined together with the goal of uniting together against the few buyers of the time, who took advantage of the dispersed offering of grape growers in the small town.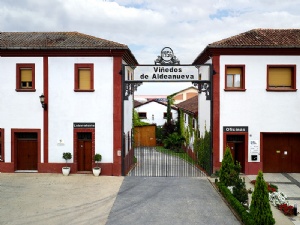 Throughout the 1960s, the bodega expanded to accommodate increased production needs from fruit from the new plantations and the arrival of new members who were attracted by the growth of the company.
In the 1970s the first bottling plant was installed —employing primarily manual processes— and the first bottled wines were put on the market. The wine was consumed mainly by the members and a few local clients.
In the 1980s, sales expanded in the domestic market and the first bottling line was replaced with more efficient, more advanced equipment. Towards the end of the decade, Bodegas San Isidro S. Coop. acquired a major share portion of Bodegas Berberana, becoming its main shareholder and holding position of chair of the board of directors.
In 1995, the share in Bodegas Berberana was sold and a major expansion, vinification and bottling project was implemented, with the first facilities in which wines could be aged. The bodega soon changed its name from Bodegas San Isidro to Viñedos de Aldeanueva, seeking to set itself apart from the numerous other winemaking co-operatives in the country that use the name of the patron saint of growers.
In 2001, a new management team took over. From that moment and with this  professionalized management implemented, a strategy to achieve sales of 13 million bottles per annum is attained.
The Terrain
Different types of soils —pebble and clay— at widely varying altitudes, together with intensive sun exposure and low rainfall, define the vineyards of Aldeanueva, offering great potential for quality grapes, characterized by their intense colour, medium-high alcohol and great health.
The vines extend from the banks of the River Ebro to the high slopes of Mount Yerga, resulting in a protracted harvest lasting more than a month.
To these characteristics, we should add the benefit of the control and advisory services provided by our Agricultural Engineers, who supervise members' vineyards from pruning to harvest, with the experience of over three generations of growers and the latest advances in viticulture.
More info: http://aldeanueva.com