BACKGROUND
We are in Paniza, a land of wine. Our vineyards are located in Denomination of Origin Cariñena, a land which has produced wine since ancient times and which brings together a series of conditions, such as the quality of the soil and the particularities of the climate, which ensure hugely successful wine production.
Cariñena is the second Denomination of Origin of Spain. Its tradition in the production of wine dates back to Phoenician and Roman times. Cariñena took its name from Carae, a Roman settlement from the year 50 BC, whilst the variety Cariñena (Carignan) originates from this region. Cariñena wines have been around since ancient times, making Aragon a land of great wines. The regional capital, Saragossa, halfway between Madrid and Barcelona and just two hours from France, is 53 km from Paniza.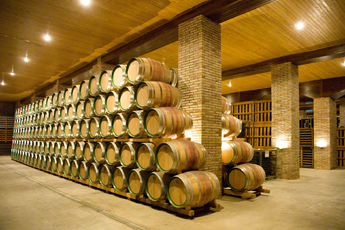 CLIMATE
Our climate is Continental-Mediterranean, marked by big temperature differences (both from day to night and also throughout the year) and low rainfall. These are the ideal conditions for the elaboration of interesting wines, with excellent concentration of colour, sugars, flavours and aromas. In summer the daytime temperatures usually reach 30ºC, cooling in the evening thanks to the height above sea level, with clear skies and a mountain breeze. The north-eastern wind "El Cierzo" has a huge influence on our climate. Nighttime temperatures in winter often drop below zero, whilst during the daytime it is usually sunny. Humidity is low and mean annual precipitation is 360 mm, concentrated mostly in winter. Sunlight is very high: 2,800 hours a year.
VINEYARD
Of the 4760 hectares covered by Paniza Wineries, our vineyards occupy around 2500 ha, with approximate production of 15 million kilos per year. The vineyards are located in the south, in a privileged area at the foot of the Sistema Ibérico. These are the highest vineyards in the area, at 850 metres above sea level, bringing very cool temperatures in summer. This, along with our dry continental climate, helps to create important temperature differences throughout the day, all year round. The result is wines with an excellent concentration of colour, sugars, flavour and aromas.