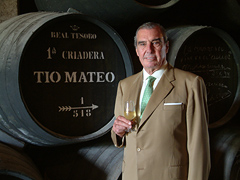 The origins of the Jose Estevez S.A wine cellars (Bodegas) are from the Jose Lena Rendon and Co. enterprise, which was established in 1809 for ageing Sherry and Brandy.
In 1894, Mr. Ruiz, the principal shareholder, changed the name of the company to his own: Felix Ruiz and Ruiz, S.A. At this time, the business reached as far as Northern Europe and South America.
Since 1974 the Estevez family has managed the entire company and in 1984 the name of the company was changed to Jose Estevez S.A. In keeping with the traditions of a family business, great importance has been given to the care of the ageing of the wines.
In 1982, Jose Estevez de los Reyes bought a large proportion of shares in the Marques del Real Tesoro bodega, taking over the whole company in 1985, injecting financial and professional support. By 1989 the Estevez family held a 95% share of the company.
In the same year, the Estevez family drew up plans for the two companies, Jose Estevez S.A. and Marques del real Tesoro, to collaborate, and transfer to brand new installations, which are in use today. These plans included the construction of new offices, ageing cellars, controlled fermentation, bottling, refrigeration and storage plants, as well as a large laboratory facility. This construction has allowed the Jose Estevez bodegas to be fitted with the most modern machinery and state of the art technology in the country. Following the plan of expansion, in May 1993 the international brand Fino Tio Mateo was acquired along with all of its Soleras, and in September 1999, one of the oldest Sherry Houses in Jerez, A.R. Valdespino, was acquired. Today however, there is much more to the Estevez group.